E C Ranch East consists of about 650 acres situated right on the Yellowstone River. We are located just outside the Glendive city limits. The property is mostly irrigated cropland with heavily wooded areas along the river. We also have just over a hundred acres of island ground on the Yellowstone.
The ranch has a healthy population of whitetails, turkey, pheasant, and geese.
You'll see it scattered throughout our listing, but please don't shoot the albino turkey that lives on our property.
Goose hunting will be included on all turkey and pheasant bookings.
We don't have lodging available on the property; however, Glendive has some reasonably-priced options for hotels and aribnbs.
We look forward to hosting you!
For sportsmen looking for mule deer and antelope hunting on the open prairie, check out our other listing:
---
---
This is a beautiful piece of land. Its location along the Yellowstone River is superb. Whitetail and birds thrive among the irrigated crop ground and wooded river bottom.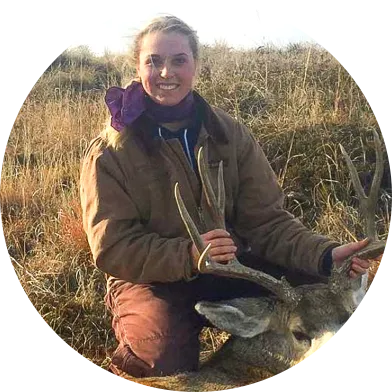 Property Visit on 3/20/2023
Skylar Stenson
|
LandTrust Field Rep
Frequently Asked Questions
Will there be other hunters on the property for the days I book?
How is the population this year?
Will I receive property maps so that I can plan my hunt?
Does LandTrust allow a day for scouting pre-hunt?
How do I know every property/available package is authentic?
Property Access & Ground Rules
Check In

:

After 5:00 AM

Check Out

:

Before 8:00 PM

Nearby Interstate

:

0-10 miles

Nearby Highway

:

0-10 miles

Campfires

:

Not allowed

ATV's

:

Not allowed

Vehicles

:

2 Allowed

Drive-in Access

:

No

Walk-in Access

:

Yes

Guests

:

4 Allowed
Landowner Rules: Leave all gates as found. Stay on main roads en route to parking spots. Adhere to no-shooting zones. DO NOT SHOOT THE ALBINO TURKEY!
Cancellation Policy:
Refunds are only available within 48 hours of the landowner accepting your booking request.
View Policy
Mr. Earl has a great piece of property with plenty of deer, turkey, and pheasant. Upon arrival, Mr. Earl showed my Dad and I the usual travel corridors the deer use when making their way from the river bottoms to the fields. We found it most effective to hunt these corridors and always saw bucks. We both got our bucks on the second morning. Mr. Earl was a great host, willing to help and provide advice whenever needed. This was a dream location to hunt for my Dad and I'm very thankful we were able to make it happen for him, I am sure we will be back to see Mr. Earl again.

Reviewed by Guest on November 2023

Lewis and his dad were responsible and able to booth harvest a buck! It's good to see a dad take his son hunting, but even better to see a son take his dad.

Reviewed by Landowner on November 2023

Earl has a beautiful property with lots of deer and turkeys. My daughter and I had a great time.

Reviewed by Guest on October 2023

It was great seeing Alan give his daughter the opportunity to hunt. She was able to harvest a nice white tail after letting some smaller bucks go and her patience paid off. They were great guests and kept me informed on their hunt sending me pictures of their success.

Reviewed by Landowner on October 2023

Earl and his property were great with the river and alfalfa fields surrounding wildlife was numerous with deer , ring neck and Turkey , he met us and showed us around the property that was beneficial and my son was able to harvest his first gobbler. Thanks Earl it was a pleasure.

Reviewed by Guest on May 2023

Glad Clay was able to bag a bird it was great to see a father and son making memories.

Reviewed by Landowner on May 2023

Beautiful property! Earl has an amazing place on the river and is a great host. We had a blast hunting there. Earl took the time to go out and show us where the turkeys were at. Amazing! Hope to go back next year!

Reviewed by Guest on May 2023

Fred and Lauren were fun and appreciative guests I also liked their feathered decoy. They would be welcome to come again

Reviewed by Landowner on May 2023

Earl has a great property loaded with deer Turkey and pheasant. He was very helpful in pointing us in the right direction to get started. We were on birds first thing in the morning.

Reviewed by Guest on May 2023

Kris and his wife were able to harvest what appeared to be a very large bird from the pitcher they sent me. They respected my property and were good about informing me of there success when done.

Reviewed by Landowner on May 2023

Earl was very responsive and flexible, easy to talk to. His place is beautiful and there was plenty of wildlife abound. We had an awesome time on our hunt.

Reviewed by Guest on May 2023

I'm glad Cody's hunt went better than their trip getting here. But we were all able to make it work and it was a success.

Reviewed by Landowner on May 2023

Earl was a great host! Very friendly and helpful. He even showed me around the property the night before my reservation. The property has a very strong turkey population and some big Toms. I had an awesome hunt.

Reviewed by Guest on May 2023

Glenn was great,I was able to show him the property and some turkeys the evening before his hunt. He finished his hunt in a couple hours the next morning. Sounds like he might be back!

Reviewed by Landowner on May 2023

We had a great 2 day hunt at Mr, Earls place! Nice guy with a beautiful piece of land! We had success on our last day. Hopefully We will be back! Thanks again Mr Earl!!!

Reviewed by Guest on April 2023

Jordan and his brother were great guests and appreciative. Glad you had a successful hunt!

Reviewed by Landowner on April 2023