The Montana Cow Company was homesteaded just outside of Bozeman, MT back in 1860. Five generations later, my dad and I are operating the family business, which has primarily always been used for cattle. The ranch sits along the Bridger Mountain Range and consists of a lower and upper field.

The upper field comprises 140 acres of mountain timber and meadows bordering 71,000 acres of National Forest. Spring Creek is essentially an underground spring that starts on our land and runs all the way down into Bridger Creek. There are great opportunities for elk, deer, black bear and grouse hunting in the upper field.

Last fall, the Bridger Range had a forest fire that burned a good portion of our upper field. Although it was dangerous at the time, the underbrush now has room to breathe and we are seeing a lot of fresh green grass growing in the meadow. The elk are loving this so far! It is not uncommon to see 100 head of elk feeding on this grass, it should be a phenomenal season in the upper field!

There are roads to help access the upper field, however they can get quite muddy after a big rain and we ask you not to take your trucks up there if this is the case. We have had people get stuck, however, if you have a four-wheeler then you should be okay. Otherwise, the upper field is accessible by foot if necessary. There is a pin marked at the upper gate where sportsmen can park and walk in from there.

If I am around, I am happy to answer questions or point sportsmen in the right direction based on what I've recently seen around the field. There is an existing ROW easement along the eastern edge of the property; sportsman and recreators have exclusive use of this property but may encounter other people on the property utilizing this easement.

Sportsmen are welcome to camp in the field, although we are only about a 10-minute drive from Bozeman. We have a water and power hook up that can be used for a small camper, assuming the access road is not too muddy. Due to extreme fire safety hazards, we do not allow campfires anywhere on the premises of the ranch. However, a jet boil or propane grill is allowed.

We are looking forward to hosting you on your next hunting trip!
---
---
On the edge of the Gallatin National Forest and at the southern end of the Bridgers, this place is perfect for anyone looking for deer, elk, bear, or easy access to the national forest.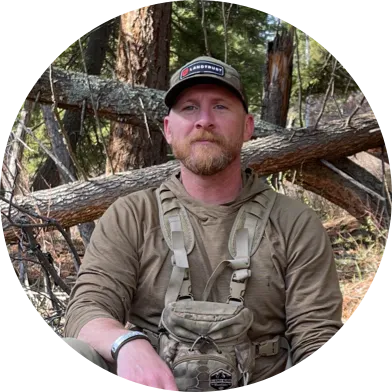 Property Visit on 10/1/2022
Kris Poirier
|
LandTrust Field Rep
Frequently Asked Questions
Will there be other hunters on the property for the days I book?
How is the population this year?
Will I receive property maps so that I can plan my hunt?
Does LandTrust allow a day for scouting pre-hunt?
How do I know every property/available package is authentic?
Property Details & Ground Rules
Check In

:

After 4:00 AM

Check Out

:

Before 10:00 PM

Nearby Interstate

:

0-10 miles

Nearby Highway

:

0-10 miles

Campfires

:

Not allowed

Pets

:

Not allowed on property

ATV's

:

Not allowed

Parking

:

Yes

Drive-in Access

:

No

Walk-in Access

:

Yes

Guests

:

4 Allowed
Landowner Rules: Stay on designated roads, parking areas. Park at lower parking area if the road is wet. No campfires if you are camping.
Cancellation Policy: Refunds are only available within 48 hours of the landowner accepting your booking request.
Property was beautiful with great habitat and wildlife. Instructions were easy and clear and the landowners were very friendly.

Reviewed by Guest on September 2023

Had a great time this weekend out at JD's. No birds harvested, but saw several good-looking spruce grouse up there. My buddy and I walked 7 miles around his property and onto adjacent public, while his bird dog put in 14 miles throughout the hunt. It was great learning experience and an amazing time! Can't say enough good things about this property, we'll definitely go up again soon. Thanks JD!

Reviewed by Guest on October 2022

This was a very positive experience from start to finish. JD was great about helping me out with understanding the property. The property had some really nice habitat and easy access to almost national forest. Although I was bird hunting, I did see some nice whitetail bucks :) Due to proximity to Bozeman and experience, I'll definitely be going again. Thanks again JD!

Reviewed by Guest on September 2022

This is a beautiful property. My kids and I enjoyed exploring the area. Thanks for the opportunity.

Reviewed by Guest on September 2022

I don't do reviews since when I gave an honest one I was black balled by associates of the VBRO

Reviewed by Guest on September 2022

This was my first elk hunting trip to Montana and also using Landtrust. I had a good experience and would do it again. I enjoyed myself and feel that what JD has to offer is something that I will try again. I may try to come a little later or watch the weather a little closer as I ran into record heat for the whole duration of my trip. That being said I still was able to see some elk up close and hear some bugling.

Reviewed by Guest on September 2022

Had an absolutely amazing time! JD was incredibly helpful showing us the property and filling us in on where animals typically hang out. I loved the opportunity with LandTrust and can't wait to use them again!

Reviewed by Guest on September 2021

Great property with lots of game around and friendly hosts.

Reviewed by Guest on November 2021

JD is a great host and the property is awesome. With the burn last year it's going to hunt amazing this year.

Reviewed by Guest on June 2021

JD is a great host with a spectacular property. Extremely helpful in offering advice on hunting the property and willing to help if I was successful in harvesting an animal. Although the location was partially hit by the bridger fire, there is still plenty of food and the animals have moved back in. A large portion of the adjacent national forest was untouched and is still as pristine as ever for wildlife.

Reviewed by Guest on October 2020