Nearest Town, Valentine, Nebraska
***2023 Spring Turkey Packages are SOLD OUT***
"The Wood Brothers, Mark and George, were first attracted by Red Deer Lake in 1906 because of the wonderful fishing and the six thousand surrounding acres of hayable ground. This was also a special section in which to hunt; the lake fed by cold-water streams being a haven for thousands of ducks and geese and the surrounding hills making an ideal nesting ground for prairie chickens and grouse."

The Red Deer Ranch has since been purchased by the Kime family including Shirley, Dallas and family, Shane/Heather and family. Together, the third generation Nebraska cattle producing family cherishes the history of the land and the mark that the Wood Brothers made upon it. Access to the waterfowl hunting and pike fishing is what first brought homesteaders to the property, but the success on the land in the last 100 years is what influenced the Kime family to expand the ranch into 20,000 acres of grazing land.

With Red Deer Lake providing a source of about 100 acres of water along with many small ponds, creeks and wetlands scattered throughout the land, there is an abundance of waterfowl wildlife. Sitting right above the aquifer and adjacent to the National Wildlife Refuge, there is a natural progression of migration for these waterfowl birds. In addition, there are several tree growths and hills that house whitetail deer, turkey, grouse and prairie chickens.

Previously, we have allowed friends and family to hunt on their grounds. However, we recognize that we have a piece of ground that is pretty appealing for outdoor recreation, with resources for an abundance of wildlife and space to run and train hunting dogs. We want to share this spectacular land with others!

The Red Deer Ranch is pretty easy to find, just 25 miles south of Valentine, NE. We are happy to accommodate lodging for up to four sportsmen for deer hunting season. Camping will be offered for waterfowl sportsmen with hook ups to water and electricity provided, otherwise Valentine has some great lodging amenities.

Due to the vast opportunities that are available to sportsmen on the 20,000 acre ranch, we strongly encourage a multi-day trip to get the best experience possible. However, there is no minimum-day package required. Semi-guided hunts are available upon request for deer and upland hunting. We do have our own radios that we recommend taking with you so that if you get stuck or need help retrieving any game, we can assist! We also have freezer space, a pump house and a block building that can be used to clean and store game if necessary.

As a family, we all believe that we have some great resources here that will give you the opportunity to really enjoy yourselves. We want to do everything we can to make sure you have a great experience! We are looking forward to working with you!

We offer 4 day guided and non guided deer hunts for 4 sportsmen at a flat rate:
-With lodging: $12,000 *Lodging for 2021 will be a camper until our cabin is built.
-Without lodging: $10,400

Interested in a different party size or number of days? Feel free to send us a message and we would be happy to discuss how we can accommodate you.

We allow tent and campers at a specific location on the ranch.
---
---
There are lots of deer sign near and around where I set up the game camera. I know there are plenty of deer on this property. Shane and his family also just added a nice new cabin to their property for guests to stay at while exploring the Red Deer Ranch.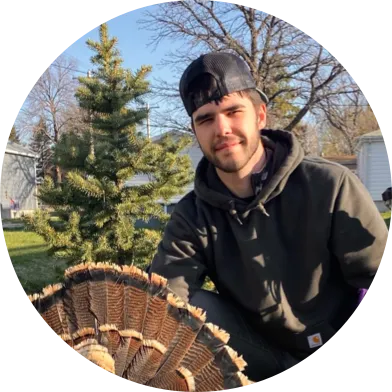 Property Visit on 7/22/2022
Theo Stenka
|
LandTrust Field Rep
Frequently Asked Questions
Will there be other hunters on the property for the days I book?
How is the population this year?
Will I receive property maps so that I can plan my hunt?
Does LandTrust allow a day for scouting pre-hunt?
How do I know every property/available package is authentic?
Property Details & Ground Rules
Check In

:

After 2:00 PM

Check Out

:

Before 1:00 PM

Nearby Interstate

:

No

Nearby Highway

:

No

Nearby Airport

:

N/A

Campfires

:

Allowed

Pets

:

Allowed on property

Parking

:

Yes

Vehicles

:

6 Allowed

Drive-in Access

:

Yes

Walk-in Access

:

Yes
Landowner Rules: Contact at the house upon arrival. Please clean up all areas and leave no trash behind. Radios are available in case there is an issue such as getting stuck.
Cancellation Policy: Refunds are only available within 48 hours of the landowner accepting your booking request.
Beautiful Place. The lodge we stayed in was beautiful and very comfortable. The hospitality was second to none. 25 miles south of Valentine Nebraska snuggled in the sand hills. The land also borders the wildlife refuge. The Kimes' were great host and very nice. We consider them our friends and will stay in touch. Wildlife everywhere. Every kind of bird you can imagine from Bald eagles to a Golden eagle to grouse, pheasant, snipe, red wing blackbirds, lots of geese, yellow hammers, wood peckers, meadow larks, many other shore birds and endless Ducks. We even saw a Tundra swan on the way out. (The best we could identify) Lots of Deer. The currently active cattle ranch was the real deal. The cattle were top end angus cross. The kind of cattle the market screams for today. My daughter rode horses with them and helped gathered cattle for a branding. We want to go back. 5 star. The Wanns, Poteau, OK

Reviewed by Guest on May 2022

We really enjoyed having the Wann family as guests! They were very respectful of our property and were very gracious of our facilities even though our cabin was not completely finished! We would be honored to have them back again!

Reviewed by Landowner on May 2022

Date of Hunt 16-18 Nov 2021 This trip was from a drawing / give-a-way sponsored by Eberlestock and Landtrust. Both companies were top shelf and treated me like a king. I'm a disabled veteran with severe nerve damage, degenerative arthritis and PTSD. I know at times I am trying and a burden to those around me. This entire experience, I never received that impression from anyone. Shane (land owner) and his lovely family welcomed mine with open arms. I also met a couple of the ranch hands, all polite and cheerful. I would not hesitate to say this is a family friendly environment. Shane went above and beyond what I think a land owner would do for a hunter. He was a great guy just to visit with. Not knowing much about the cattle industry, I had a lot of questions. Really enjoyed learning a few things and now have a better perspective. He is also concerned with land management, not only for his livestock but the wildlife and environment. Meeting Shane was truly a highlight of the trip and I owe the successful hunt to him. The Hunt,….. The first two days the wind was terrible. 25mph with gust up to 45mph. Wind had everything spooked. Did see spikes, doe's and a few bucks but at distances not great for shooting with the high winds. Movement was very unpredictable. Still had a great time sneaking & peaking. Day 3,…. Wind was down to 5-10 mph, deer were running everywhere. Harvested a healthy 9pt at 338 yards. The right weather guaranteed a shot. The Red Deer Ranch,…. Place is huge, could accommodate a large or several hunting parties. It is a working ranch so there is livestock on site but did not interfere. The property consists of many large pastures that are surrounded by rolling hills. The pastures are separated by, and most also have, uncleared game friendly habitats. There are also ponds and small lakes. I saw an abundance whitetail, a few mule deer, pheasants, a few ducks, two huge flocks of turkeys and the largest coyotes I've ever seen. While I was there, they poured the foundation for an on-site lodge for guest. This will make the ranch even more fun to hunt. Shane also talked about other hunter friendly improvements that are still in the planing stage. Personal thought (with land owner permission) your own 4wheeler or SxS would be handy if planing to move around alot. But a truck is fine. Location,… Red Deer Ranch is located about 30min south of Valentine Nebraska. Folks were friendly and prices were reasonable. A gun store if you forget ammo. Game processing took 24hrs and was reasonable. We stayed at the Trades Wind hotel, $80 a night, cable, fridge, microwave and you can backup to your room. In closing, couldn't have had a better time. Wish and hope to do again. I highly recommend this. SFC (R) Ed Walding DMOR 16th Infantry & 34th Armor Regiments Killeen, Texas

Reviewed by Guest on November 2021

Edward and his wife Teresa spent 3 days with us while experiencing there hunt and we really enjoyed every day! They ate supper with us one night and it was fun to get to know them! Edward and his wife had never been to Nebraska so we were able to let them experience our beautiful Sandhills and see how we conduct our every day lives! It was tough hunting this year but we were able to harvest an animal! Edward expressed that he was really enjoying his hunt even though it took some time and was very patient! I highly respect our Veterans and it was a great learning about Ed's time in the service while we bounced around the hills! I would have no problem hosting Edward again and thoroughly enjoyed his company!

Reviewed by Landowner on November 2021