The Hamm Ranch is on its 4th generation of cattle ranchers, operated by the family since the late 1940's/50's. While running red and black angus on the land and tending to a small plot of farm land alongside rotating pastures, the Hamm family has been hard at work for many decades.

The ranch primarily consists of irrigated hay and alfalfa fields for the cattle to graze. With the Cottonwood Creek running right through the middle of the ranch, whitetail and other wildlife love to pass their days around the water source when they aren't feeding on the irrigated grounds up above. The Hamm Ranch is the home to an abundance of whitetails, antelope, black bears and mountain lions. There is a small population of mule deer, huns and grouse scattered throughout the property as well as a flock of turkey that can occasionally be seen. Elk have been found on the property, although not as common.

In addition, the Cottonwood Creek offers great private access for fishing Yellowstone Cutthroat.

The ranch has a 110 plug-in if sportsmen are looking to bring out an RV or camp on the land. Otherwise, the town of Wilsall is just 20 minutes away with other lodging arrangements.

There is a maximum of four sportsmen/party. There are designated roads and parking areas that are centrally located. Any game taken will need to be retrieved by foot.
---
---
Cottonwood Creek runs through the northern section of the property with grazing pastures in the south. This place is a haven for deer and upland birds.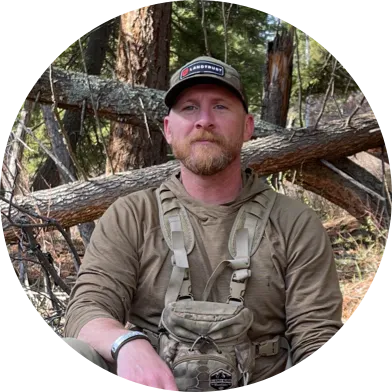 Property Visit on 10/1/2022
Kris Poirier
|
LandTrust Field Rep
Frequently Asked Questions
Will there be other hunters on the property for the days I book?
How is the population this year?
Will I receive property maps so that I can plan my hunt?
Does LandTrust allow a day for scouting pre-hunt?
How do I know every property/available package is authentic?
Property Access & Ground Rules
Check In

:

After 12:00 AM

Check Out

:

Before 11:00 PM

Nearby Interstate

:

20+ miles

Nearby Highway

:

0-10 miles

Campfires

:

Not allowed

Pets

:

Not allowed on property

ATV's

:

Not allowed

Vehicles

:

4 Allowed

Walk-in Access

:

Yes

Guests

:

4 Allowed
Cancellation Policy:
Refunds are only available within 48 hours of the landowner accepting your booking request.
View Policy
Great property, enjoyed the trip.

Reviewed by Guest on October 2023

Charles was great to have come out.

Reviewed by Landowner on October 2023

Good cover and terrain for upland birds. Garrett was most accommodating and went well beyond what was expected to assist us.

Reviewed by Guest on September 2023

Glad to have them out. They were great to talk to and I'm happy that we were able to get them into some birds despite the soggy weather.

Reviewed by Landowner on September 2023

Our party of 3 had a great time. Multiple deer and elk tags filled on the Hamm ranch. Communication with Garrett was excellent.

Reviewed by Guest on November 2023

Very friendly and would welcome back anytime.

Reviewed by Landowner on November 2023

Garrett was very responsive and very helpful. We had a great time gopher hunting and he was very helpful on getting us on them. Our son really had a great time! Will definitely hunt his property again when we are in town!

Reviewed by Guest on July 2023

Kelly and her family were great to have out. Very friendly and great communication.

Reviewed by Landowner on July 2023

Beautiful ranch with a big variety of game. Good glassing points and access on both sides. Garrett was great to communicate with 5 stars

Reviewed by Guest on September 2023

It was great to have Austin out. Good communication and I enjoyed visiting with him.

Reviewed by Landowner on September 2023

We went out to shoot gophers. It was great. The gopher population was very plentiful and we burned through lots of ammo. Garrett was helpful and let us know right where to go. Thanks!

Reviewed by Guest on April 2023

Taylor checked in and out was a great person to have out.

Reviewed by Landowner on April 2023

Had a wonderful time at Garret's ranch. The upland bird habitat was wonderful and we didn't even cover a quarter of his ranch before we and the dogs were tuckered out. Would definitely go there again!

Reviewed by Guest on September 2023

It was great to meet and have Kerry out. She was very good to communicate with and very respectful of the property.

Reviewed by Landowner on September 2023

We really enjoyed our time and Garrett was wonderful to work with. It is a beautiful ranch with abundant wildlife. We look forward to visiting again in the future. Thanks Garrett!

Reviewed by Guest on November 2023

It was great to have William and his kids out. They were very friendly and I enjoyed meeting them.

Reviewed by Landowner on November 2023

My son and I had a fantastic time and a memorable, successful hunt on Hamm Ranch. We certainly would like to return. Thank you, Garrett.

Reviewed by Guest on October 2023

Francois and his son had some of the toughest hunting we've had due to the weather. He was great to meet and was very upbeat. We would welcome him back anytime.

Reviewed by Landowner on October 2023

The Hamm Ranch is a nice property. We had tough conditions with the recent crust layer, but were still able to hunt a lot of the ranch and found birds. Garrett is a great host and I'm looking forward to going back next season.

Reviewed by Guest on January 2023

Trevor was very good to communicate with and we would be happy to have him back.

Reviewed by Landowner on January 2023

I had a great time at the ranch that ended with a successful harvest of a whitetail buck! I'm planning on making it back next year.

Reviewed by Guest on November 2022

Great to have him out and glad that he was successful.

Reviewed by Landowner on November 2022

Garrett makes every attempt possible to help you get on the ranch. Great communication and a wonderful property. Thank you Garrett for the access to your beautiful ranch!!

Reviewed by Guest on November 2022

Glad to have Sam and his friend out. Great communication and would love to have back.

Reviewed by Landowner on November 2022

Had an absolute blast on the Hamm ranch. Booked this property to fill my personal deer B (doe) tag, and help a buddy find a good shooter buck. Within 30 minutes of shooting light on the first day I was able to fill my B tag. My buddy did get a few shooting opportunities on some shooter bucks but decided to pass on them. Garrett was also a great host who answered any questions I had in a timely manner. I will definitely be back.

Reviewed by Guest on November 2022

Great to have out. Great communication and would welcome back.

Reviewed by Landowner on November 2022

Thanks, Garrett, for the privilege of hunting on your property. I had a terrific day. Had a great time. Walked 5 miles, my dog pointed 3 coveys, all in a sporty 20 mph wind that made the birds spooky! Beautiful property, vistas are magnificent. All the best. Walter

Reviewed by Guest on October 2022

Great to have him out. Very friendly and he left muffins. Would love to have him back.

Reviewed by Landowner on October 2022

The Hamm Ranch is a gem! Antelope, whitetails, elk and moose all call this awesome ranch home. Garrett was an awesome host and communication was great. Thank you for the opportunity and hospitality and I hope to visit again soon!

Reviewed by Guest on October 2022

Great communication and super friendly. Would love to have back.

Reviewed by Landowner on October 2022

Garrett was a great host. We saw a bunch of elk, deer, & huns while we were on our hunt. We got to full draw a couple of times but weren't able to get the shots we wanted. We'll be back!

Reviewed by Guest on October 2022

Always great to see Nic and his crew.

Reviewed by Landowner on October 2022

Garrett is always a great host for this fine property. Thank you!

Reviewed by Guest on September 2022

Reviewed by Landowner on September 2022

Garrett's property is an absolute blast to hunt! It has animals everywhere; we saw moose, elk, antelope, and deer. Garrett is extremely fast to respond and easy to communicate with. I will definitely be going back!

Reviewed by Guest on September 2022

Very good communication would love to have back.

Reviewed by Landowner on September 2022

The property is great with a variety of habitats and cover. Thanks for a great upland bird opening weekend!

Reviewed by Guest on September 2022

Great communication would welcome back.

Reviewed by Landowner on September 2022

Garrett was a Great Host! The ranch was Great! saw lots of game. including mule deer, whitetails, Elk and Huns. I end up taking a nice fat 6 point whitetail buck! Thanks Again Garrett !

Reviewed by Guest on November 2022

Jim was very excited to hunt but came a day early to scout during youth hunt. He was very friendly but once he harvested a deer called my wife's business to get her phone number and then pestered her to come to retrieve it with an ATV or tractor. Then wanted gate combination so he could drive in the farm field to get it.

Reviewed by Landowner on October 2022

Beautiful property Unfortunately, the weather cut our day short River was a little low Best of luck Kent

Reviewed by Guest on April 2022

Would welcome back anytime.

Reviewed by Landowner on April 2022

Garrett's ranch is beautiful and he's a fantastic landowner. We saw tons of whitetails with some pretty great bucks. We'll be back come rifle season!

Reviewed by Guest on October 2021

Nic was great to work with and great to have out.

Reviewed by Landowner on October 2021

Beautiful ranch with nice cover for birds. Garrett was very responsive and helpful pointing us to the best places to chase birds. Looking forward to hunting it again.

Reviewed by Guest on October 2021

Would welcome Rob back. I hope the birds cooperate next time.

Reviewed by Landowner on October 2021

Stunning views in every direction and an abundance of wildlife made for a very memorable hunt - Garrett was a fantastic host and made me very welcome on their ranch. Will definitely be back!

Reviewed by Guest on October 2021

Easy to work with and very pleasant. Would love to have him back.

Reviewed by Landowner on October 2021

Great day in the field! The landowner was responsive and helpful. Well managed property.

Reviewed by Guest on September 2021

Very easy to communicate with and was great to have out. Would love to have her and her friends out again.

Reviewed by Landowner on September 2021