Nearest Town, Bristow, Nebraska
Holmberg Farms lies North of Bristow, Nebraska in an area of rolling hills, wooded draws, and scenic bluffs. Our property is home to many big game species including whitetail deer, mule deer, occasional elk, turkeys, bobcats, coyotes, and mountain lions. Three of our ponds have fish in them, although the 2021 drought has them a little dry at the moment. Bass, bluegill, and crappie are the most commonly caught fish.
We rifle hunt the November deer season ourselves but would welcome archery, muzzleloader, and late-season antlerless deer hunters. We have three elevated enclosed deer stands with heaters in addition to some ladder tree stands. Turkeys love the wooded draws. Coyotes are frequently found in open pastures. Doves are around early in September. We do not offer pheasant, quail, grouse, or waterfowl hunting.
Our property consists of alfalfa fields, cover crop fields, food plots, wooded draws, 5 ponds, and grass pasture.
For those interested in sightseeing, photography, or birding, you won't find a more picturesque property.
Our shed has living quarters complete with two bathrooms, a kitchen, one bedroom, one full bed, one twin bed, a TV, and room for more air mattresses.
Pickstown, Fort Randall, and the Fort Randall casino are all located within about 15 miles of the property offering dining and lodging options.
---
---
Saw a bunch of turkeys on his hills when changing game cams. Has plenty of deer sign on property. We have caught elk on his cameras... Eugene also mentioned bumping a big bull elk in one of his hay fields this fall.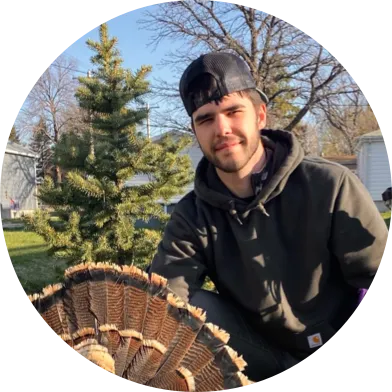 Property Visit on 10/17/2022
Theo Stenka
|
LandTrust Field Rep
Frequently Asked Questions
Will there be other hunters on the property for the days I book?
How is the population this year?
Will I receive property maps so that I can plan my hunt?
Does LandTrust allow a day for scouting pre-hunt?
How do I know every property/available package is authentic?
Property Access & Ground Rules
Check In

:

After 5:00 AM

Check Out

:

Before 11:00 PM

Nearby Interstate

:

No

Nearby Highway

:

11-20 miles

Nearby Airport

:

N/A

Campfires

:

Not allowed

Pets

:

Not allowed on property

ATV's

:

Not allowed

Parking

:

Yes

Vehicles

:

4 Allowed

Drive-in Access

:

Yes

Walk-in Access

:

Yes

Guests

:

6 Allowed
Landowner Rules: Let landowners know vehicle make, model, license plate number. Check in with landowner upon arrival.
Cancellation Policy:
Refunds are only available within 48 hours of the landowner accepting your booking request.
View Policy
I have bow hunted turkeys at Eugene's for many years now and it never disappoints! Plenty of birds start showing up from the MO River bottoms and surrounding areas as soon as the snowing starts melting! Great farm, even GREATER HOST!!

Reviewed by Guest on March 2023

Eugene was a great host! The property was beautiful and exceeded my expectations. There were plenty of birds on the property and I was able to harvest my first turkey with a bow. The lodging was great with all the comforts of home. Thanks for your hospitality Eugene! We are already planning to return next year!

Reviewed by Guest on April 2023

All of the previous reviews of Eugene and his property are 100% accurate. Eugene was a stand-up guy and made sure everything went well with the trip. The lodging has everything you could need and the property is absolutely beautiful. The ridges had plenty of cover and roost trees for the birds to come up in to out of the Missouri River. I was fortunate enough to have one morning with little to no wind and the ridges were lit up with gobbles as far as you could hear. I saw multiple mature birds as well as quite a few Jakes that will be prime 2 year olds for next year. I wouldn't hesitate to revisit this ranch again for another turkey hunt.

Reviewed by Guest on April 2023

It was such a pleasure to hunt Holmberg Farms. Eugene showed amazing hospitality and provided great accommodations. We were even able to scout and hang some trail cameras a couple weeks prior. Lodging was very clean and comfortable. Amenities made it easy to clean up and cook a warm meal after the days hunt. The property itself is a beautiful rolling hills parcel almost touching the South Dakota border. Extremely diverse with timber, pasture, and Ag. Abundance of wildlife, especially turkey. There are food plots with blinds and stands to hunt. You can really see the hard work Eugene has put into his farm and I appreciate the opportunity to hunt it. Hopefully we can come back next year!

Reviewed by Guest on November 2022

Eugene was a great host!! A down to earth wonderful guy. He took the time to make sure my hunt was a success. The property is absolutely beautiful with plenty of birds. Thanks again Eugene!!

Reviewed by Guest on May 2023

Eugene and his family hospitality was the best. The farm is one of the most beautiful I've hunted. Turkey everywhere. I will definitely come back. I recommend this place to anyone turkey hunting.

Reviewed by Guest on May 2022

Eugene was an excellent host. We left there feeling like we had been friends for a good while. He was very respectful and very helpful in showing us the layout of his property and where he had been seeing turkeys. Accommodations were nice with everything we could possibly need. Lots of turkeys on the property. Got the opportunity to double up with my dad on an awesome hunt. Thank you Eugene for allowing us the opportunity to hunt your place! Hope to make it back next year.

Reviewed by Guest on June 2022

Beautiful property, although the terrain can be challenging when turkey hunting. Road systems were great. Accommodations were exactly what we needed & as described. Eugene is a super nice guy & answered any questions we had during our hunt. Overall had a great experience & a wonderful hunt! Would recommend some preparation for walking on inclines.

Reviewed by Guest on April 2022

I sure enjoyed my stay at Holmberg Farms. Eugene is easy to deal with, and I also grew fond of his dog Bandit. There are some burley Bucks living across these hills. I was not able to get "archery close" but enjoyed trying. Food plots are a plus ! Beautiful farm.

Reviewed by Guest on September 2022

Our Group of 4 had a great time on our turkey Hunt. Weather wasn't the best for turkeys but we still all managed to harvest a bird. Eugene is a great host and has a beautiful place. He has a great setup for any small group to stay at, would definitely come back.

Reviewed by Guest on April 2022

Very nice piece of land to hunt. Hunting was a little slow do to warm weather in December. Saw some smaller bucks and does( whitetail&mulies). Eugene was very accommodating and helpful. He also gives you a very nice place to stay while you are there. Overall, fun place to hunt!

Reviewed by Guest on December 2021

The landowner was friendly and helpful with everything about the trip. The property was a perfect habitat for deer and other wildlife. The enclosed blinds were all heated and offered a great view. Plenty of food and cover for deer and other wildlife. The lodging is great it has a kitchen, bathroom, bedroom and even satellite TV. I plan to return with my son on a future deer hunt.

Reviewed by Guest on December 2021
Landowner
I like hunting deer and just enjoying the great outdoors.
I like hunting deer and just enjoying the great outdoors.