My grandpa bought this property back in 1953 as a cow/calf operation. Three generations later, my son, Wyndan and I are operating it in the same order. Kimmel Ranch consists of about 5,000 acres of private land, although we control a total of 10,000 acres of BLM and state land as well. We have implemented a fair amount of hay ground which the wildlife and birds appear to love.

Flat Willow Creek runs year-round and meanders throughout the ranch for about 2.5 miles. We see a lot of wildlife flock to this creek bottom, especially the whitetail. Up above, we have roughly 1,000 acres of scattered bull pine timber that provides great coverage. The rest is rolling grasslands with a bit of sagebrush. A lot of the grazing land is native grass, however we have introduced some western wheatgrass.

Our land is loaded with pheasant and antelope. Everywhere you look, you'll see pheasant. Likewise, previous hunters have been extremely successful with antelope on the land, they are pretty hard to miss! We see plenty of whitetail, mule deer and the occasional elk as well. Other birds include upland, grouse, Hungarian Partridge, Sage Hens and Eagles. We see a lot of birds out here!

The land is easily accessible with good roads going across the private land to get to the BLM land. Otherwise, you're welcome to walk anywhere on the property. There are quite a few fences and gates, although they are very easy to open. We have tree stands and blinds up for deer and elk and we can easily help retrieve harvest if hunters wish for assistance.

We have plenty of space to park a camper/RV or pitch a tent. There is electricity at the house and we are happy to accommodate to make sure your experience is as enjoyable as possible. The nearest town of Roundup, MT is just 25 miles to the south with plenty of lodging and other amenities. There is no minimum or maximum number of days when booking, however we would like to cap hunters to groups of 3-4 for safety reasons.

We are happy to open access to our property for recreation and trust that visitors will be respectful of the land and leave it as they found it.
All bookings and trips are expected to be arranged through LandTrust. No outside arrangements will be made. Thank you!

Looking forward to hosting you out at Kimmel Ranch!
---
---
The first time I visited the Kimmel Ranch I saw more pheasants there than I think I have my entire life! An amazing property with plenty of water and habitat to support big game and upland birds.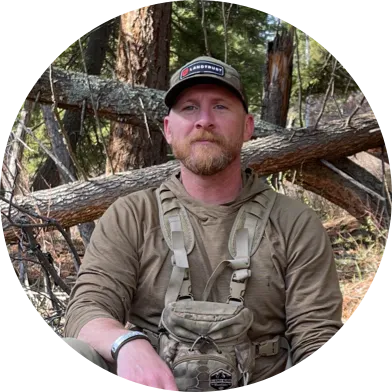 Property Visit on 9/23/2022
Kris Poirier
|
LandTrust Field Rep
Frequently Asked Questions
Will there be other hunters on the property for the days I book?
How is the population this year?
Will I receive property maps so that I can plan my hunt?
Does LandTrust allow a day for scouting pre-hunt?
How do I know every property/available package is authentic?
Property Details & Ground Rules
Check In

:

After 4:00 AM

Check Out

:

Before 9:00 PM

Nearby Interstate

:

No

Nearby Highway

:

0-10 miles

Campfires

:

Allowed

ATV's

:

Not allowed

Vehicles

:

3 Allowed

Drive-in Access

:

Yes

Walk-in Access

:

Yes

Guests

:

5 Allowed
Additional Lodging Availability
RV/ Motorhome Friendly: Yes
RV/Motorhome Amenities
Water Hookup
Potable Water.
Tent Friendly: Yes
Landowner Rules: Guests are asked to check in at the house on arrival day. Vehicles must stay on established, two-lane tracks that are established on the property. Leave all gates the way you found them. If hunting and you are successful, let us know, we can help retrieve the animal. Please text pictures of harvested animals.
Cancellation Policy: Refunds are only available within 48 hours of the landowner accepting your booking request.
Had a great time. Carl was a great host.

Reviewed by Guest on May 2023

Charlie brought his family with him to eradicate some prairie dogs. The ground was pretty muddy, so their. Opportunities were limited. They respected the situation and shot most of the day on the area we could get them to. It was great to have him and his family. I always like to see the youngsters get involved. They are welcome back anytime.

Reviewed by Landowner on May 2023

Excellent adventure shooting prairie dogs. More than enough Prairie dogs to go around. Carl was super hospitable from the time we arrived until we left the ranch for the day. Carl provided all the information we needed to have a wonderful day on his ranch, we will definitely be making a return in the future.

Reviewed by Guest on May 2023

Jason was courteous and conscientious about our property. He is welcome back anytime. Enjoyed having people like him.

Reviewed by Landowner on May 2023

Had a great time chasing elk with my bow on the Kimmel ranch. The ranch is a really unique property - having a substantial stretch of creek bottom along with higher level timber, hay fields, creek beds, and unique access to both BLM and MT state lands. Saw elk, antelope, and mule deer during my hunt. I'll be back!

Reviewed by Guest on September 2022

I enjoyed meeting Mark and I could tell by visiting with him he would be plumb trustworthy on our property. Great guy and I just wish I'd been able to get him on more game. He's definitely welcome back.

Reviewed by Landowner on September 2022

2nd trip out, birds were not as cooperative as first time, but good time had by all. Karl is a great host and property is a great spot!

Reviewed by Guest on December 2021

Dan was really respectful and responsible. Enjoy having him come out.

Reviewed by Landowner on December 2021

Carl was very easy to get in touch with and quick to respond.

Reviewed by Guest on December 2021

Jason was good to have. My son met him when he arrived. When his hunt was over he reached out to thank me.

Reviewed by Landowner on December 2021

Very easy to set up and communicate. Carl met us a lined us out on what was an epic bird hunt. Can't wait to go back and we will soon.

Reviewed by Guest on December 2021

Dan was great. His group was my first on Landtrust. Punctual, respectful and courteous. I wasn't home when they left and Dan reached out and let me know how their hunt went. Even sent a picture. Great guy! Landtrust helped me through the entire process from start to finish. Thanks

Reviewed by Landowner on December 2021

Carl was an awesome host and was very knowledgeable about where to spend our time hunting on the ranch in order to have the best bird hunt possible.

Reviewed by Guest on December 2021

Taylor showed great respect for the property and us. We didn't get a very good chance to visit, but he was great The wind wasn't very fair to him as far as hunting birds went but he stuck it out.

Reviewed by Landowner on December 2021