Located just a few miles from the town of Ord, Nebraska, this 2000-acre working cattle ranch sits at the heart of the beautiful cornhusker state. With the dry Sandhills to the north and lush green grasslands to the south, these rolling hills provide a little bit of everything. Family-owned and operated for over 80 years, this small-town ranch has expanded over the years to include some of the most pristine, biodiverse collection of land in the state.

Haskel Creek runs right through the property with other draws and river bottoms feeding into it. Meanwhile, the mix of grazing land and farm ground overlooks the North Loop River Valley, luring species of all sorts for nesting and breeding. The hardwood trees provide some protection; otherwise, the ranch has endless miles of serene, rolling fields.

We have a goose blind with propane heating that sits near irrigated cornfields and about a quarter of a mile from the North Loop River. This blind has assisted some extremely successful days for goose and duck hunting! The fields attract an abundance of deer and turkey that meander throughout the property all day long. Meanwhile, doves fly about everywhere! We are happy to provide storage space for anything you've harvested early in your trip.

The property is unique in that it is easily accessible via the county road. However, once you arrive on the property you are completely remote and can enjoy the peace and quiet. The town of Ord can provide great lodging options and other amenities if necessary. We do not have a minimum or maximum number of days for booking.

We are looking forward to hosting you on your next trip!
---
---
Awesome property with lots of draws and wooded areas that provided cover for many deer. I did also happen to see some turkeys out on one of their hillsides when I was out taking pictures of the property.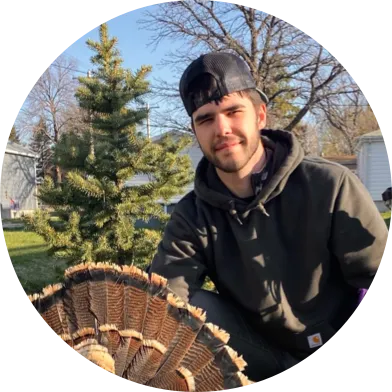 Property Visit on 5/20/2022
Theo Stenka
|
LandTrust Field Rep
Frequently Asked Questions
Will there be other hunters on the property for the days I book?
How is the population this year?
Will I receive property maps so that I can plan my hunt?
Does LandTrust allow a day for scouting pre-hunt?
How do I know every property/available package is authentic?
Property Details & Ground Rules
Check In

:

After 4:00 AM

Check Out

:

Before 9:00 PM

Nearby Interstate

:

20+ miles

Nearby Highway

:

0-10 miles

Campfires

:

Not allowed

ATV's

:

Not allowed

Parking

:

Yes

Vehicles

:

4 Allowed

Drive-in Access

:

Yes

Walk-in Access

:

Yes

Guests

:

6 Allowed
Additional Lodging Availability
Cancellation Policy: Refunds are only available within 48 hours of the landowner accepting your booking request.
I would like to first say that Luke is a stand up guy and was very hospitable during our hunt. He met us early and made us breakfast before our hunt and offered to drive us to the location that he felt would be best to start our hunt. He was quick to respond during all of our communications and was a pleasure to deal with throughout the entire process. I am going to do my best to accurately depict the turkey hunting opportunity on the Kovarik ranch as best as I can. Although the ranch is a large tract, there was much less acreage that we felt would hold birds during the spring (minimal nesting habitat and roosting areas). Per discussions leading up to the stay, Luke mentioned that there were 3-4 different roosting areas that had anywhere from 20-30 birds. I assumed that these roosting areas were on the Kovarik ranch; my best guess is this was during the fall/winter when the birds were flocked up, as we did not see more than a single hen and heard a very distant gobble off of the property. It was apparent that there were no resident birds on the property, as we covered the majority of the land on foot and did not come across a single track, turkey turd, dust bowl, or turkey feather. The ground was very hard due to it being extremely windy and dry, so it's likely some areas may have had some traffic and tracks would not have been noticeable. We also hunted in higher than average winds. Wind gusts reached near 50mph, so conditions were anything but ideal. We feel that the birds were staying in the bottoms on the adjoining neighbors property to get out of the wind. I will note that Luke did make an effort to gain access for us from his neighbor and we appreciated his efforts in trying to help us get on the birds. After spending half of the first day on the ranch, we decided to head west to hunt public land in search of more sign/turkeys. We did not hunt the second day with Luke as we were able to find both sign/turkeys elsewhere and ended up successfully harvesting birds. The 2022 season is my 21st year hunting turkeys, so I feel that I usually have good judgement and a sense for what to expect when I get to access a new property. I have no doubt that birds are on the Kovarik ranch at times as they move up and down the drainages and creek bottoms, but I am not confident that the ranch consistently holds resident birds during the spring. If I had more than a short window to hunt, I would reconsider hunting the property simply because I enjoyed the host and feel the birds could potentially work through there at some point. If I was on a mission to kill a turkey (like we were with 1.5 days to hunt NE), I would likely hunt elsewhere.

Reviewed by Guest on April 2022