***2023 Spring Turkey Packages are SOLD OUT***
Lovejoy Ranch is a sixth-generation working cattle ranch owned and operated by Bob and Jody Dexter. The 6500-acre property is nestled in the north-central region of the unique grass-covered dunes of the Sandhills, just a short 20-minute drive to Valentine, Nebraska.

Cattle grazing through proper grass management provide wildlife a perfect habitat. Whitetail and mule deer can be found across the ranch in the hills and around the tree claim shelterbelts. The Evergreen Creek flows East through the land providing water to various ponds creating a natural environment for waterfowl. In the early mornings, you can count on hearing the rooster pheasants chatter and take off in flight as ranch chores begin, while turkeys leave their roosts and begin their day. When moving cattle through their pasture rotations you are sure to have a flock of prairie chickens and sharptail grouse take flight under your horse's belly. El Lake, the beginning of the Evergreen creek, is a small lake stocked with an abundance of bass, northern pike, and bluegill.

The Ranch has RV and tent camping available, but hotel lodging is available in a short drive. Valentine is a small town at the junction of two major US Highways, 20 and 83. You can find just about anything you need here— there are two gun stores, a bait shop, a grocery store, etc.

Although we don't have a minimum for days booked in a trip, we highly recommend booking multiple days to take full advantage of what our ranch can offer! Our family has had great success hunting the ranch and we look forward to sharing this with other sportsmen!
Want to get to know more, watch this video of our experience hosting folks through LandTrust!
---
---
Property looked great! Saw probably 5 head of deer on property when driving in. Bob and Jody mentioned they should have pretty good numbers for deer hunters this year.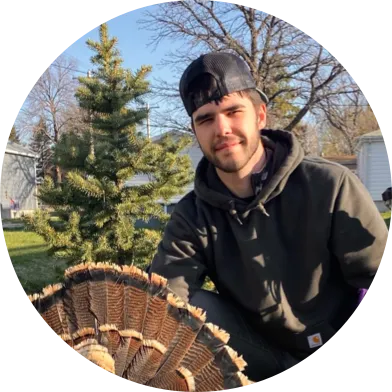 Property Visit on 9/14/2022
Theo Stenka
|
LandTrust Field Rep
Frequently Asked Questions
Will there be other hunters on the property for the days I book?
How is the population this year?
Will I receive property maps so that I can plan my hunt?
Does LandTrust allow a day for scouting pre-hunt?
How do I know every property/available package is authentic?
Property Access & Ground Rules
Check In

:

After 6:00 AM

Check Out

:

Before 9:00 PM

Nearby Interstate

:

20+ miles

Nearby Highway

:

0-10 miles

Campfires

:

Allowed

Vehicles

:

2 Allowed

Drive-in Access

:

Yes

Walk-in Access

:

Yes
Landowner Rules: Everything that is brought in with you must go out. Always shut the gates. This is a working cattle ranch, please be mindful of the livestock and horses.
Cancellation Policy:
Refunds are only available within 48 hours of the landowner accepting your booking request.
View Policy
Jody is very nice and welcoming. The ranch is easy to navigate. I went one day, before pheasant season. Im 67. It was wet, overcast and 47 degrees. There was considerable standing water. I walked 4 hours from 10 until 2pm until I was chilled from wet feet. Even though it was mid-day, my Brittany and I saw pheasant, geese, mallards, whitetail and turkey. We walked edges of hay fields and windbreaks and didn't explore the Sandhills.

Reviewed by Guest on October 2023

The property is amazing. Early season waterfowl numbers as expected. Had several working flights everyday. Easy access even after 4 inches of rain ATV access was easy. Jody and Bob are amazing. Just having access to the beautiful Sandhills was amazing.

Reviewed by Guest on October 2023

We had a great time on the Dexter's Ranch! We had plenty of opportunities to fill a few of our muzzleloader tags on nice muley bucks. Bob is a class act and helped us any way he could. We will definitely try to go back sooner than later!

Reviewed by Guest on December 2023

We had a great time. Jodi and Bob were gracious hosts and very helpful. We saw plenty of birds but getting them in the air with 2 people and 1 dog was difficult with all the undercover to hide in and run through. I would recommend it for the experience and the knowledge, but come with more people and dogs.

Reviewed by Guest on November 2023

We were very pleased with our hunt. We're already talking about a return next year. Bob & Jody are very friendly people, they took us around the property after we set up camp, telling us where the boundaries were, where they see the turkeys, etc. My wife was working a tom while I was setting up camp. We saw birds every day, & had many close encounters. I got a Jake, and Dana had many close calls but not close enough. Its a lot different hunting turkeys there than here in Illinois, but, we're ready to go back and double up next year!

Reviewed by Guest on May 2023

Rick M. This is my second trip out to LoveJoy Ranch. The day before our hunt, on our way into town, I called Bob and Jody and they were more than happy to show us around the property (to refresh my memory). During our hunt, we had seen turkeys, grouse, mule deer, whitetail deer, and coyotes. I would highly recommend this hunt to anyone and I look forward to returning. Barry F. For my first trip out west it will be a most memorable one. Hunting on your ranch was an experience to remember. Getting a nice mule deer was certainly a bonus. Having Bob retrieving the deer was certainly appreciated. Bob and Jody couldn't be any more accommodating I would recommend this hunt for anyone just looking for a good time.

Reviewed by Guest on November 2023

My experience at the Lovejoy ranch was fantastic. Bob and Jody showed me around the property and provided recommendations. I saw turkeys everyday and I look forward to future trips.

Reviewed by Guest on April 2023

We really enjoyed hunting the Lovejoy ranch. It is a beautiful ranch. We heard and saw turkeys everyday. We heard coyotes every evening. Jody and Bob were great host that were willing to stop what they were doing to show us around and answer all of our questions . We stayed at the super 8 in Valentine because it was reasonable priced and it was extremely clean.

Reviewed by Guest on May 2023

The experience and land was great I saw deer, turkeys and a few grouse I appreciate their willingness to point me in the right place to get started

Reviewed by Guest on September 2022

Took my wife on her first mule deer hunt. Bob and Jody were super nice. My wife harvested a nice 4x4 mule deer. Seen several mule deer and a lot of whitetail. Great place to take a youth or novice hunter. We had a great time.

Reviewed by Guest on December 2022

Had a great trip. The Sandhills in spring are spectacular and so is the ranch. Jody showed me around the property and I started my hunt. Didn't harvest a bird but had a really nice opportunity but he snuck up behind me. So goes turkey hunting? I really enjoyed watching all the wildlife. Turks, grouse, phez, deer etc... Communication with Jody was easy. I really hope to get back up there this fall.

Reviewed by Guest on May 2022

We had a blast my son Cole 7years old and I both harvested a gobbler our first Merriam gobbler ! Jody and her husband were very friendly and showed us around ! We were very thankful to be about to lease their land ? It was a once in a lifetime trip for my son and me ! We will have those memories for a lifetime!

Reviewed by Guest on May 2022

I went to the Lovejoy Ranch on a turkey hunt and Jody and Bob were awesome hosts. Bob showed me where the birds travel through and where they are roosting. The ranch was awesome and had an excellent population of birds. I was able to tag one the first day. I'm definitely coming back next year.

Reviewed by Guest on May 2022

Second visit to Lovejoy Ranch. Bob and Jody Dexter are fantastic. Only fitting that such a beautiful ranch is owned and operated by such great people. The ranch is full of game. Already planning a 3rd trip. Its difficult to decide on hunting for deer or upland game, but in difference to my new puppy, next time the focus will be on upland game. No doubt the trip will be another highlight reel. Can't wait to return and spend some time with the Dexters. God bless them both with health and happiness.

Reviewed by Guest on November 2022

Jody and Bob were great! Very friendly and welcoming having us on their ranch. They showed us where we could camp and talked with us about what we were seeing. Showed us boundary lines and checked in with us to see if we needed anything. Would definitely recommend taking a look at the ranch and hope to return in the future!

Reviewed by Guest on October 2021

"Bob and Jody are great folks and Lovejoy Ranch is a piece of heaven. Bob showed me around the ranch and went into pretty good detail on how to hunt the ranch and showing me boundaries. Jody was excellent host and communications were excellent. Both made me feel right at home and I made new friends that will always be special to me. The property has good herd of whitetail and mule deer with some exceptional animals. I also saw upland birds, turkeys, and lots of waterfowl flying overhead. The hunt is by no means easy but if you are determined, put in the effort and be patient you can no doubt be successful here. I plan on coming back. Great ranch and even greater people. A+++++++++++"

Reviewed by Guest on November 2021

The Lovejoy ranch is a fantastic location for birding and observing unique species. Some species seen include unlikely finds like a female sharptailed grouse with seven chicks, and a nesting colony of black terns. The area houses wetlands, small forests, and mixed grass prairie. We had the property mostly to ourselves allowing for peaceful observation of species. One of the best birding experiences I have had in the region. Would definitely recommend it to any birder looking for a different and personal birding experience.

Reviewed by Guest on July 2021