This ranch is a private oasis with a small creek running through it, with several open fields and meadows, and both scattered and dense timber for cover. The ranch is divided into 4 pastures, which are utilized for cattle grazing (from mid-May til late September or early October). This can affect the hunting when they are present. There are many houses in the area and bordering the ranch, so we ask that you are mindful of your target and beyond and that you don't shoot game that is on the ranch's outer fenceline. This ranch also borders thousands of acres of public land to hunt when game isn't found on the ranch. Landowner will be around to offer tips and guidance on your hunt, and can assist with game retrieval.
There is no lodging, but power for a camper could be arranged, and there are plenty of spots to camp.
---
---
This ranch has plenty of open meadows and timber for elk and deer. The elk frequented the property in the mornings and evenings while I was there. Great spot for archery opener!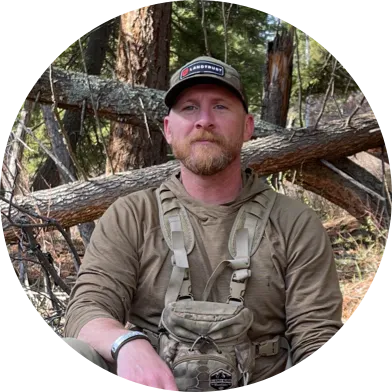 Property Visit on 9/18/2022
Kris Poirier
|
LandTrust Field Rep
Frequently Asked Questions
Will there be other hunters on the property for the days I book?
How is the population this year?
Will I receive property maps so that I can plan my hunt?
Does LandTrust allow a day for scouting pre-hunt?
How do I know every property/available package is authentic?
Property Details & Ground Rules
Check In

:

After 6:00 AM

Check Out

:

Before 9:00 PM

Nearby Interstate

:

0-10 miles

Nearby Highway

:

0-10 miles

Campfires

:

Not allowed

ATV's

:

Not allowed

Vehicles

:

2 Allowed

Drive-in Access

:

No

Walk-in Access

:

Yes
Additional Lodging Availability
RV/ Motorhome Friendly: Yes
Tent Friendly: Yes
Landowner Rules: This is in an area with subdivisions on two sides of the property, and other houses in the area, so must know target and beyond. It is also imperative that you have a hunting app like OnX so you know where the property boundaries are.
Cancellation Policy: Refunds are only available within 48 hours of the landowner accepting your booking request.
I booked a 2 day elk hunt on Bill's property. The property was absolutely gorgeous! There was plenty of fresh sign for deer and elk. We got into elk first thing first morning. No Bulls with the cows. Unfortunately, I don't think they were quite Into the rut when we booked our trip. Didn't see any other elk while on the property. You can definitely tell they spend some time in there though lots of sign all over. Saw Plenty of mule deer , quite a few does And a few forkies. I'm sure if I had more time on the property. I would have gotten back in to elk! Bill was super great at answering messages and questions. I would definitely book again to see the rest of the property and what it has to offer! Thanks again Bill!

Reviewed by Guest on September 2023

Camped at the property for a couple days late August to scout and meet Bill. Beautiful property with several areas to set up for archery. Saw a cow with calf and a yearling spike bull..also saw a nice 4x4 mule deer in velvet. Bill was a great host and showed us the land in detail. We booked for later in September...hoping to write another review with photos of harvested elk

Reviewed by Guest on September 2023

The property was great and Bill was extremely helpful and generous host though we didn't get any sighting of bears this trip the place had lots of opportunities for turkey and elk and I definitely will be come back this fall.

Reviewed by Guest on May 2023

Bill is an excellent host and has a great ranch.

Reviewed by Guest on May 2023

Great last minute hunt. No time to scout. Lots of small mule deer buck around, ended up taking a little 3 by with a broken horn on last morning. Last minute as I was leaving the Elk showed up, Big Time! 80+ with a big 5X5 leading the herd. It took some work getting back up the hill before they moved through but I made it. Would love to show you that pic but I forgot to allow for the 30MPH crosswind. Bull didn't get that big giving people second chances. I will definitely be back. Property is easy access for us old guys. Close to services. The land owner came out and assisted in confirming my miss! Bill is a great host!

Reviewed by Guest on November 2022

From heading out in the snow to line us out to questions along the way Bill was a good helpful and easy to get ahold of host. And while limited to a short range season we saw some game.

Reviewed by Guest on January 2023

Was a great trip, Bill is a great guy. Saw some cows and Claves first thing on a neighboring property, with no Bulls. Ended up taking a mule deer later in the day. Location is great as well, great for glassing.

Reviewed by Guest on November 2022

Thanks for having us out Bill. We had a great time on the property . We hunted Bills place for two days. The elk were on the property thick the first night and both of my boys were in bow range. That's all you can hope for with archery hunting. To just be in them and have a chance. We saw 50-60 head the first evening, lots of bugling and a couple call ins. The second day was slower. Saw some elk but they did not come on the property from what we could find. I'm sure they felt some pressure from us and will cycle back in over the next few days. Super easy terrain to navigate. Bill communicated great and was super helpful. He met us when we arrived, gave us the lay of the land and information on what the elk had been doing. He made sure the property wasn't hunted back to back which I think is important on smaller pieces. Bill is a self admitted elkoholic. You could tell he wanted to see us have a good time and a good hunt. We did on both accounts.

Reviewed by Guest on October 2022

I really enjoyed hunting on Bill's place. The land is a mixture of open meadows and forest, good elk habitat. There was snow on the ground and lots of elk sign. I did see elk and get into them on the first day. I didn't have a cow permit but wished I did because I certainly could have harvested a cow if I had one. I saw a few bulls but just couldn't get into position for a shot. Bill met me when I arrived, answered all my questions, and when I checked in with him over the next couple of days he responded quickly to my messages. I would hunt this property again. Bill was easy to work with, thoughtful and kind...good guy!

Reviewed by Guest on October 2022

Had a great time at Bill's place this past weekend. Saw plenty of elk on and around the property, also bumped into some mule deer and antelope. Coyotes are on the place as well. Bill was great to work and communicate with. Would hunt here again for sure!

Reviewed by Guest on September 2022